From our site in Weybridge we butcher, ferment, cure and age all of our products, some of which can take over a year to fully mature to the level we want. Alongside our technical know-how is our obsessive approach to flavour using carefully blended spices to enhance this wonderful meat to create a range of uniquely Tempus products.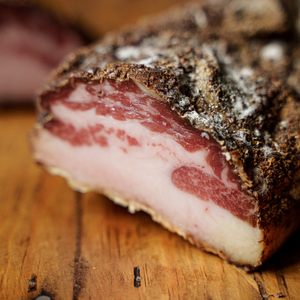 Guests for dinner?
We've got you covered...
Not tried Tempus yet?
Here are some of our most popular products...
Uniquely British
Tempus No. 8 might just be the most delicious and versatile speciality ingredient in our kitchen right now. It's often compared to Italian nduja, you can use Tempus No.8 in the same way of course, but this product is truly special, uniquely British and one that we are incredibly proud of.
Order no. 8 now!