Made by chefs for chefs
Time-honoured, award-winning British Charcuterie made in Surrey. A delicious joint venture founded by Tom Whitaker and Dhruv Baker.
Tom Whitaker
Tom Whitaker lives in London with his wife Lucie and two children Sebby and Zadie. His role as production director means he's constantly striving to improve and innovate, marrying classical technique with modern methods. He's worked professionally within the food industry since he was a finalist on MasterChef UK in 2011. Tom's passion for charcuterie came initially from his parents, in particular his late father Peter, whom we have dedicated and named a product after, our award-winning King Peter ham.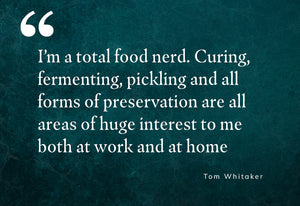 Tom's obsession with curing meats was further fed by his time living and working in Rome. After working as a chef for several years he began to specialise in charcuterie and, combined with his own research and learning was able to further his training under the modern great Massimo Spigarolli in Zibello, Italy. Tom came home with age-old Italian traditions and technical know-how under his belt. This, combined with a desire to create a uniquely British product whilst utilising the food chain correctly is how Tempus was born.

Dhruv Baker
Dhruv Baker began his professional career in food in 2010 after winning MasterChef UK. His award-winning debut book Spice: Layers of Flavour was launched in 2014 to critical acclaim. His distinct understanding of spice and layering of flavours is woven into the very fabric of Tempus, presenting our British-made charcuterie an unparalleled, unique flavour profile. Born in Mexico to an Indian mother and English father, Dhruv offers a broad spectrum of culinary influence and style which is apparent in the blend of spices used to enhance and elevate our charcuterie.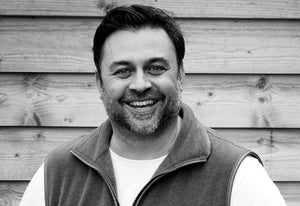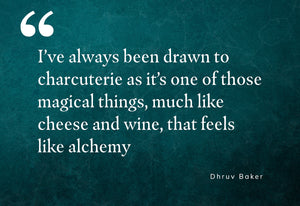 As well as our commercial director, Dhruv works as a consultant and an ambassador for numerous food brands and is commissioned for his expertise in recipe creation, premium ingredient sourcing, wine pairings and concept creation.

Dhruv, who lives in Surrey with his wife Aileen and two boys Arun and Xander is on the final judging panel for the Great Taste Awards, The World Cheese Awards and is a familiar face on MasterChef UK.
Plus a fantastic team!
At the heart of Tempus' production team are Lee South and Christian Infante. Lee is skilled butcher with over 35 years' experience, who delivers a wealth of knowledge and skill to the team. Having held many roles within the butchery industry, Lee's experience is invaluable. Lee is ably supported by Christian, a former senior chef and now charcutier who joined Tempus in 2020, Christian's passion for food and hard work have made an integral part of the Tempus team.