The science bit
Controlled Drying
Farmed and cured in England
At Tempus we have spent years tweaking and amending our systems to reflect the environmental conditions we want to replicate to deliver the flavours and textures that have made our products some of the most highly awarded in the industry. It is a process that we constantly monitor and continuously tweak but we think it's worth it and we hope you do too!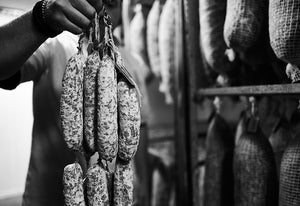 This is probably the hardest aspect of the charcutier's role. Aging rooms are fickle things and can be affected significantly by a host of environmental factors such as temperature, airflow and humidity. Of these, temperature is the least problematic as an increase or decrease within certain parameters will generally manifest as an increased or decreased drying window, but the room shouldn't generally be above 13c as higher than 15c can encourage bad mould growth.
The humidity window is key, a common misconception is that to dry charcuterie you need dry spaces, but it is quite the opposite! The ideal humidity is between 75-80%rH (rH – relative Humidity). Too low and the outside of the charcuterie dries too quickly and can lead to case hardening (this is when the outside becomes too dry too fast and locks the moisture inside, leading to spoilage). Too high and the high moisture content can lead to the growth of bad moulds and moisture stagnating on the casing, which in turn forms a barrier to moisture loss. What you want is a humidity level that allows for uniform and controlled drying throughout the drying window (3-4 months for coppa, salami and loins and up to 14 months for our hams).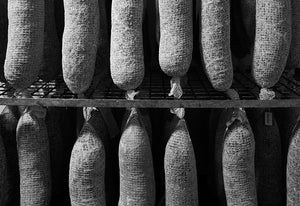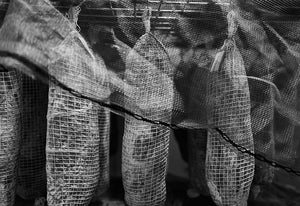 The final and most tricky of all the environmental factors is undoubtedly airflow. Again, there is very much of a sweet spot for air movement within a maturation space: too much and the outside of the casing dries, leading to case hardening; too little and the air stagnates meaning moisture doesn't come away from the products.
To add further complication to the scenario, the airflow is also directly affected by how full or empty the room is - as the room is filled with freshly cured meats full of moisture, the rH goes up which means our dehumidifiers must work harder. Furthermore, we have a very delicately programmed system of air-exchange which gives us the right amount of fresh air while keeping our precious biome stable and happy allowing us to produce our charcuterie all year round with maximum consistency.
Try some of our salami...