Meticulously cured, delicately spiced
The basic principles behind making cured meats are fairly simple: salt and time. If you leave any protein in enough salt for long enough and then hang it for long enough you will end up with cured meat. What you probably won't end up with  (in fact it's pretty much a guarantee) is something that is good to eat.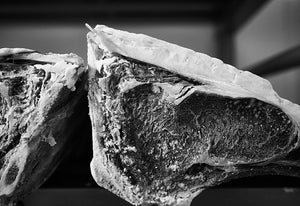 This is the process by which curing agents are added to raw meat which are absorbed into the meat, thereby preserving it for long periods. As the salts are absorbed, water is lost, which aids this preservation process. The more salt you add, the dryer the meat will get but also the saltier it will get which can result in it becoming unpalatably salty – inedible in fact.
Traditionally the meat will be fully covered in salt and curing salts and will be left for a specified amount of time, the excess salt brushed or washed off and the meat hung to air-dry. While this method is simple and large quantities of meat can be cured it is inexact and does mean that you can end up with over or under cured meats. Both far from desirable.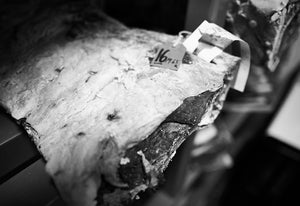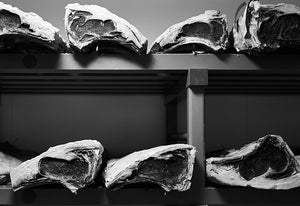 What we use at Tempus as opposed to the traditional salt-box method is something called Equilibrium Curing which is far more precise but is a great deal more labour intensive. In this method, a specific amount of salt (calculated as ratio by weight of the piece of meat to be cured) is carefully rubbed over the meat, coating it fully and then allowing that salt to be absorbed over a week or two. This means that the meat cannot be over-cured and overly salty (assuming the initial calculation is correct!).
Now, to put this into context, when we make our coppas, loins or hams we usually make them in batches of up to 200 pieces. This means each piece needs to be weighed and labelled and then each curing mix needs to be calculated and weighed out (this is a mix of salt, curing salt and the spices used in the cure). As you can imagine this takes a great deal longer than the salt-box method would take but this does give us the precision required for consistency. We are working on something that will massively reduce the time but it's top secret for now so watch this space...

The next step... Fermentation